On 12 December 1993, Polytex was founded – a Polish company employing 16 persons. In further activities it was sold and then converted into a German company with the same name.
In 2008 in connection with a succession plan, Polytex was acquired as the Polish site of the GWU group and was renamed Gummi-Welz Poland (GWP). Since then, the company in Trzcianka in western Poland has been manufacturing fiberglass-reinforced plastic (FRP) components for a range of applications, including construction machinery, agricultural vehicles and rail vehicles.
In 2019, GWP was acquired by the HÜBNER Group, a global system supplier serving the mobility sector, manufacturing industries, life sciences companies and research activities. Headquartered in Kassel, Germany, HÜBNER employs more than 3,500 people around the world. In addition to its headquarters, HÜBNER has established more than 30 locations around the world in recent decades.
From product development
to spare parts preparation
Our services
GWP provides customized product solutions that are manufactured using the latest technologies. We can support you across the whole manufacturing spectrum – from product development to series production to spare parts preparation.
Product development: In close coordination with the customer, we develop FRP components, modules and systems using state-of-the-art 2D and 3D CAD systems.
Model construction: CNC milling based on 3D CAD data
Mold making: In-house mold-making capacities for RTM and hand-laminate tooling
Production: At GWP, we manufacture using RTM and LRTM injection molding processes as well as vacuum-injection molding. In addition, hand lamination processes are available. We use gelcoat in-mold coating for all technologies.
Certifications: Our processes are certified in accordance with ISO 9001, ISO 14001 as well as DIN 6701-A2.
Further processing: In our in-house painting department, components are painted according to customer requirements. Most of the produced assemblies are fully finished at our plant and delivered to the customer ready for installation at the production line. Our bonding expertise is documented by the DIN 6701-A2 certification.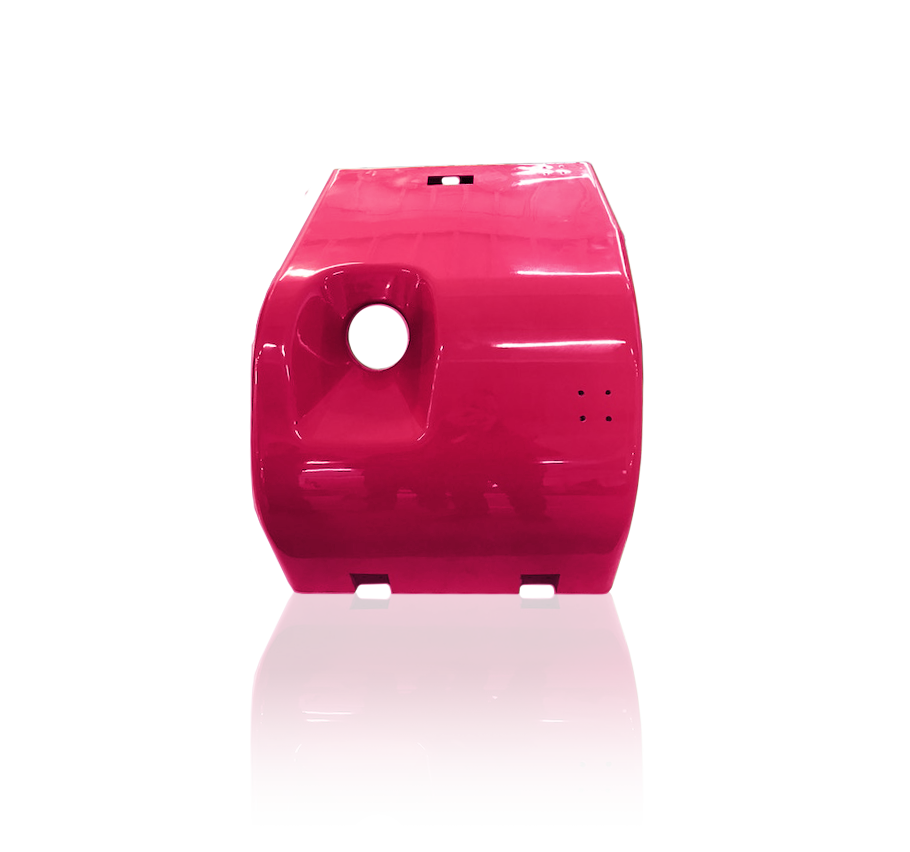 Trzcianka as an industrial and commercial hub
Our location
The Polish city of Trzcianka with its 17,000 inhabitants is situated between forests and Lake Sarcz. In the first partition of Poland in the 18th century, it was assigned to Prussia as Schönlanke. After the end of the Second World War, it was once again placed under Polish administration.
Trzcianka was earlier one of the largest centers for cloth production in Greater Poland. Due to the abundant forestland, numerous wood-processing companies also were established In Trzcianka, including seven sawmills.
To this day, the city is known as an industrial and commercial hub. Thanks to its proximity to the nearby lake, it is also a popular tourist destination. The Town Hall on Sikorskiego Street, the Church of St. John the Baptist with its asymmetrical tower, the Weavers' Pantry on Mochnackiego Street, and the museum with its regional collection are all attractions for visitors. And in the center of the city, there is a magnificent maple-leafed plane tree as an impressive natural landmark.
GWP offers fiberglass reinforced plastic (FRP) components for construction machinery, agricultural vehicles and rail vehicles.
Gummi-Welz Poland is integrated in the international sales network of the HÜBNER Group. This lets our customers benefit from speedy service, experts available around the world as well as local contact persons. Our FRP specialist Wolfgang Schick will be pleased to support you with your individual requirements. Write or call. We're looking forward to your inquiry.
Wolfgang Schick
Key-Account-Manager GFK
Tel.: +49 173 2756108
w.schick(@)gummi-welz.de
GWP - part of a strong network
A member of
the HÜBNER Group
GWP is part of the HÜBNER Group – a global system supplier serving the mobility sector, manufacturing industries, life sciences companies and research activities. Worldwide HÜBNER employs more than 3,500 persons at more than 30 locations, including in Hungary, the USA, China, Russia and Brazil. HÜBNER is a well-recognized specialist for sophisticated solutions and products made of elastomers, insulation and composite materials, and also as a supplier for applications in the field of laser, terahertz and high frequency technologies. In addition, HÜBNER is the world's leading supplier of gangway systems for buses and rail vehicles.
More information about the HÜBNER Group is available at:

Great opportunities
Job openings
at GWP
We are looking for employees to join our dedicated team in Trzcianka. As a reliable employer of more than 3,500 persons around the world, the HÜBNER Group not only offers employees great opportunities, it also provides a friendly, family-like company culture where new employees can arrive, explore and grow. Get to know us – we're looking forward to meeting you!
Become a supplier
for GWP
As a GWP partner, you will be working together with the long-established and innovative HÜBNER Group, which operates a worldwide purchasing network. To produce high-quality, technically sophisticated products, we always are in need of reliable, high-performance suppliers.
Are you interested in becoming a supplier for GWP and contributing your technical know-how, fresh ideas and strong cost awareness to the optimization of our products? Then write to us – we look forward to hearing from you!
News from GWP
Our company News
Find out the latest about GWP developments. Read our current press releases or take a look in the archive.
Thank you for your interest in Gersys! Please contact the following departments with your request via e-mail:
We will be in touch with you promptly.